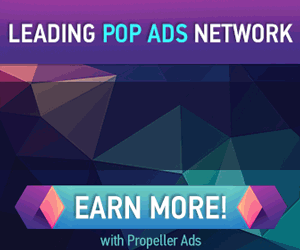 Propeller Ads Media - Legit or Scam?
We started blogging way back 2013. We build different sites and we had tried different companies to monetize our site including the most popular and giant one where we get high earnings too but poor customer support and without any warning they will disable your account for a suspected unknown invalid activity (We asked evidence since we do not click any ads but they cannot give) and will not pay your last earning and then they will say it will be returned to affected advertisers... hahahahaha funny!!!! Would you believe it will be given back???? We will not mention them since they are Giant. We did not appeal anymore since they hurt our feelings and moved on. Until we found the best place to monetize sites as Publisher and that is
Propeller Ads Media
and we believed that they are also the best place to advertise based on our experienced. Want to know why?
Just last February 27, 2017, we tried
Propeller Ads Media
to monetize in one of our site. In a span of 1 month, we reached the payment threshold $100.00. Their payment schedule is net30. Since it is our first time to apply in that company we are not very sure or uncertain if we will get paid. Do they really pay?
Customer/Propeller Ads Media Support
We contacted the support team and we got immediate response. Every queries we have made got responses that made us comfortable. Until time schedule of payment come and look at the screenshot.
No need to explain further. Indeed
Propeller Ads Media
is 100% legit and trusted. They pay Publishers on time. Screenshots shows payment from
Propeller Ads Media Publisher Account
to our
Payoneer Prepaid Card
.
From Propeller Ads Media Publisher Account
To Payoneer Prepaid Card
We highly recommend
Propeller Ads Media
not because we are a publisher of their company but because of the Excellent experienced from them.
If you are a publisher, they offer good CPM in targeted countries like USA, Canada, UK and some others. If you need Screenshot just comment below and I'll send it on how much we earned in different countries.
Why Propeller Ads Media is Best for Advertisers?
Propeller Ads Media offers CPM (Cost Per Mille) or Cost per thousand impressions rates. That means Propeller Ads value advertisers money. The more engagement the highest ROI. Below we compare CPM versus CPC.

Which is better: CPC or CPM? It's the question that marketers have been asking since the beginning of the online advertising age.
Mathematically, it's easy to compare CPC to CPM. Here's an example of how to do it:
(CPC means Cost per Click ads, while CPM means Cost-Per-Thousand Impressions of the ad.)
Assume that you bid $1.00/click for your CPC ad and commit to a $2,500 budget. You are guaranteed 2,500 clicks. Now assume that you agree to pay a $15 /cpm for the same ad and commit to the same $2,500 budget. You are guaranteed that your ad will be seen 166,667 times. To get the same number of clicks, 1.49% of the people who see the ad would have to click on it (that's click through rate, or CTR).

You can see the big difference. In our own conclusion, CPM is the best for advertisers and Propeller Ads Media is the leading CPM network.

Select the Best! Good luck!
Complete a survey with valid responses or offer to download and install the app. (Note: Applicable only if the app download/install link is locked)